9 Home Trends You'll See Next Year (1 Will Surprise You!)
Posted by Tamara Kucik on Tuesday, December 22, 2020 at 1:05 PM
By Tamara Kucik / December 22, 2020
Comment
Since many of us spent a majority of 2020 in our own homes, we've had plenty of time to contemplate our personal spaces and decide what is working and what needs to be changed. After spending most of our time inside, things that we previously paid no attention to may now stick out like a sore thumb. And after the KonMari craze led hordes of us to purge our closets and storage spaces, many may feel that our homes have been left too bare. This new way of living has amplified the need for functional living spaces, vibrancy within our four walls, and an outdoor respite from staring at screens all day. As a result, you may see these trends gain popularity in 2021:
Designated home offices
Since the work-from-home (WFH) lifestyle is growing and evolving rapidly, so are the ways in which we consider these spaces. Home office spaces that were once regarded as nice to have are now mandatory, especially if multiple people in one household are working from home or are in virtual learning environments. Makeshift offices are no longer cutting it and established workspaces with uncluttered design and places to tuck away WFH tools are becoming the norm. Sterile workspaces that can be disassembled are being left behind in favor of permanent offices with a cohesive design that can be incorporated within the rest of the home.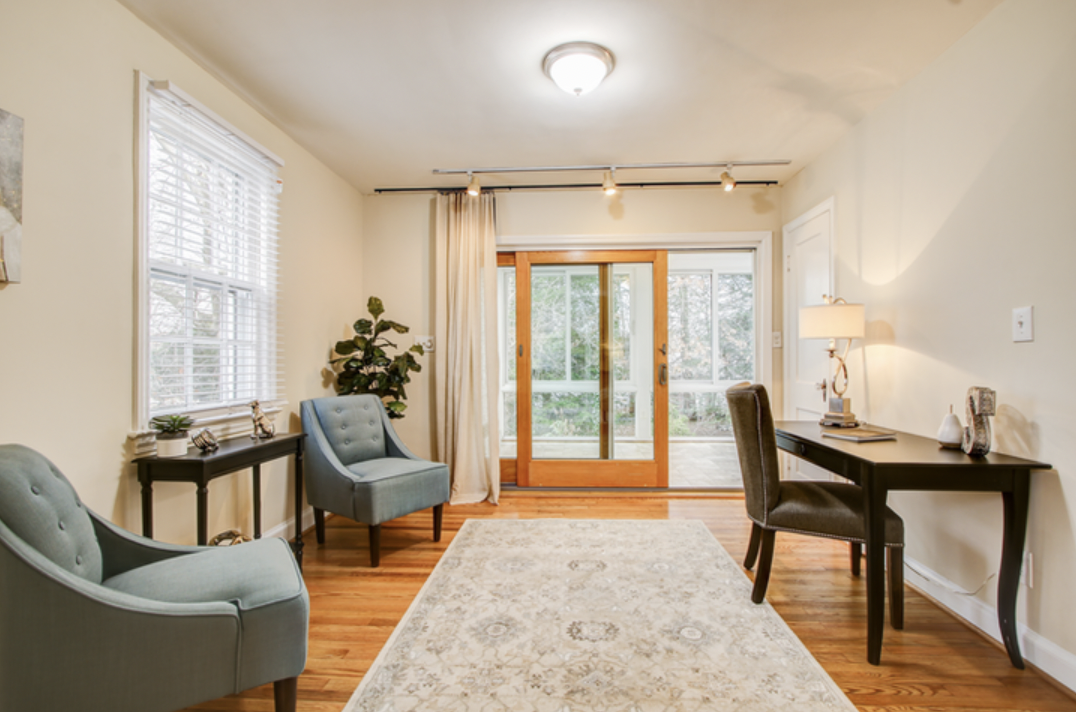 An elegant home office bathed in natural light
Color
Playing with pops of color are ways to introduce cheer, warmth, and charm into a space, whether that is with bold furniture or textured accent walls that are more stimulating to the senses. This departure from grays and whites lends itself to more creativity in the form of intense color palettes, unusual finishes, and patterns. A room's look can be changed with a whimsical accent wall or patterned wallpaper and DIY projects galore have sprouted up online. Lighter-toned woods are favored over their darker counterparts to create an uplifting atmosphere, modern look, and illusion of a larger space.
Coziness
Danes have long embraced the concept of Hygge and Americans are now following suit with an emphasis on natural materials, softer curves, and comfortable functionality. The departure from the austerity of sharp lines and muted tones has led to the emergence of earthy palettes, traditional styles, and layered fabrics and textures. With more time spent at home, a calming atmosphere can be created with materials like jute, ceramic, leather, and organic fibers.
Indoor plants
With so much time spent inside, having indoor plants is a way to freshen the stale air and bring the calm of nature indoors. Caring for plants helps brighten the mood and is therapeutic and grounding. What's more is little edible gardens can be used to grow herbs to be used in cooking and cocktails. It can be fun learning about new plants and accessorizing with textured stoneware pots.
Indoor lighting
Plants aren't the only ones who need more light— people do too! Opting for gauzy, semi-opaque curtains over heavy window treatments allows more light inside to brighten the mood and illuminate indoor spaces. Decorative smart lighting can also be used to set schedules and create ambient lighting.
Upgrading outdoor spaces
The need for a private, protected space to relax and have fresh air and recreation is essential, especially after being cooped up inside all day. Patios, decks, pergolas, and gardens are all gaining popularity as we crave safe places to gather and spend time together.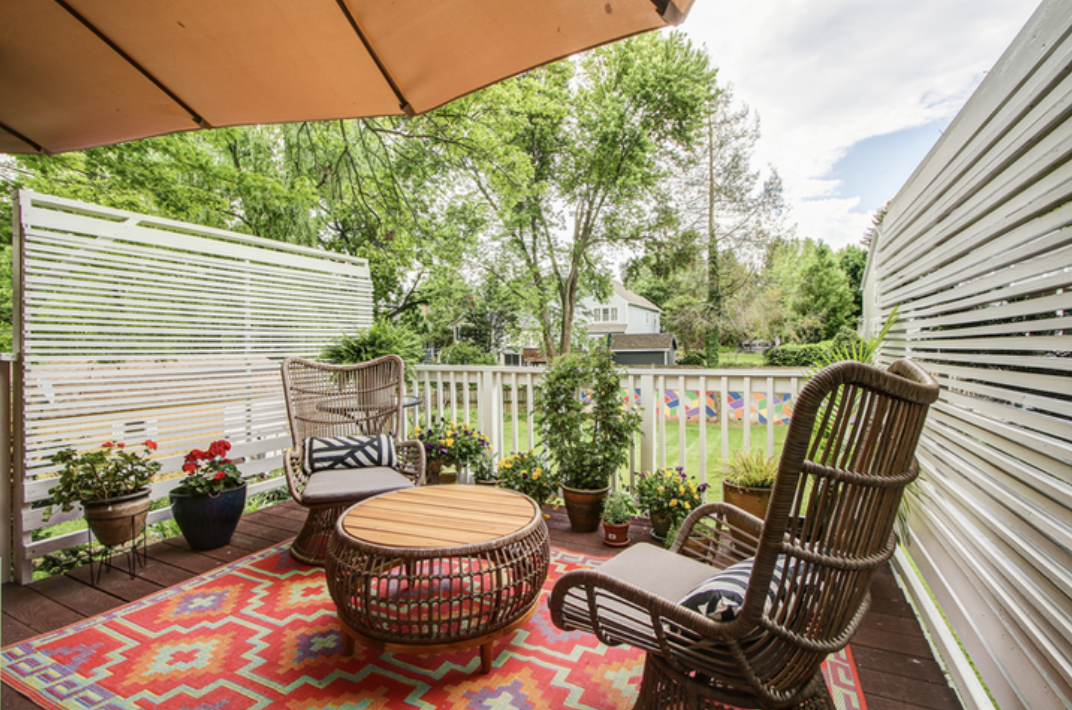 Vibrant outdoor spaces are perfect spots to relax
Sustainability
With more time at home, durable fabrics that stand the test of time are more important. Investing in quality pieces that can be kept for years and repurposing old materials are gaining in popularity over fast furniture options.
"Grandmillennial" style
A modern take on granny design, younger people are reappropriating traditional styles that may seem stuffy or outdated like busy patterns, florals, classical esign forms, and antiques. Flea markets and antique stores are sites for one-of-a-kind pieces that are affordable and sustainable. Borrowing from older styles mixes the coziness of grandma's house with modern styles.
Bidets
After the toilet paper shortage scare earlier this year, general interest in bidets has certainly piqued. While we don't expect to find bidets in a majority of bathrooms, the prevalence of them is increasing, especially amongst those trying to reduce paper consumption or those who don't want to risk being caught in another toilet paper shortage.