Dupont Circle aka Pacific Circle
Posted by Tamara Kucik on Wednesday, September 4, 2019 at 1:48 PM
By Tamara Kucik / September 4, 2019
Comment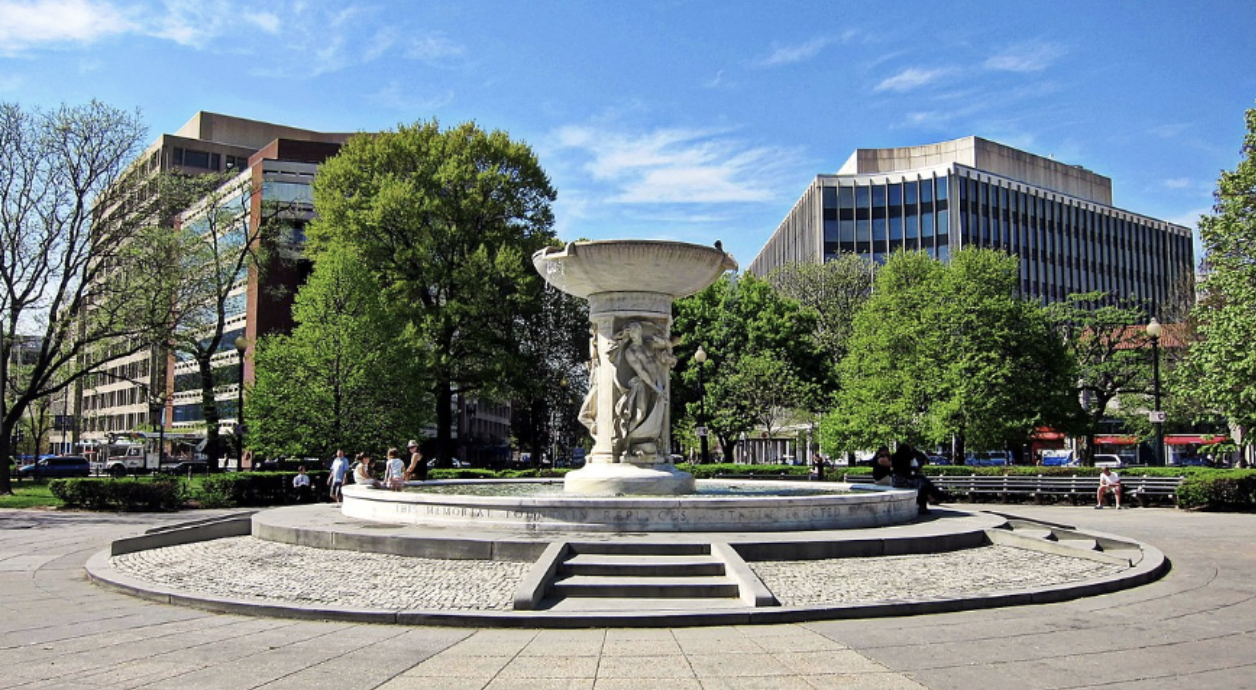 Dupont Circle is one of the most historic and well-known neighborhoods in Washington, DC. Dupont Circle has a rich past that surely contributes to its vibrancy and intrigue today. Dupont Circle is not only a historic district and neighborhood in northwest DC but also traffic circle and park. It is roughly bordered by Florida Avenue NW to the north, M Street NW to the south, 22nd Street NW to the west, and 6th Street NW to the east. The circle itself is an intersection of 19th Street NW, P Street NW, New Hampshire Avenue NW, Connecticut Avenue NW, and Massachusetts Avenue NW.
Prior to the American Civil War, Dupont Circle was largely undeveloped. Construction began on Dupont Circle in 1871, but it was originally named Pacific Circle in Pierre L'Enfant's building plans. It was renamed Dupont Circle in 1882 to honor Rear Admiral Samuel Francis Dupont, who served in the Mexican-American War and the American Civil War, and who was also part of the prominent Du Pont family. A statue of Du Pont was added in 1884, but his family found it too insignificant to honor him and had it moved to Wilmington, Delaware. To replace the unsatisfactory statue, the Du Pont family commissioned the fountain that stands there today, which was done by the creators of the Lincoln Memorial.
Once development began, there was an influx of new residents after the war. Mansions cropped up along Massachusetts Avenue in the 1870s and townhouses were built throughout the neighborhood in the 1880s until the early 1900s. Not only were the new rich moving into Dupont Circle, but also President Calvin Coolidge. When the White House was being repaired in 1927, President Coolidge temporarily lived in the Patterson House on 15 Dupont Circle.
When Connecticut Avenue was widened in the 1920s, some houses were demolished to make way for commercial spaces like office buildings and shops. Another effect of the widening of Connecticut Avenue was increased traffic and therefore congestion in Dupont Circle. To alleviate this, medians and traffic signals were added in 1948. In 1949 the now-defunct Capital Transit project was underway, which built traffic tunnels and an underground streetcar to allow people to pass underneath the circle. The underground station was eventually paved over in 1962.
After a brief decline after World War II, Dupont Circle made a comeback in the 1970s as a haven for alternative urbanites with a distinctly bohemian and eclectic feel. Dupont Circle became trendy and featured a wide variety of shops, restaurants, clubs, and upscale retail stores, which is still true of the area today. Many row houses on the tree-lined streets have been divided and are available to rent, and the lack of garage parking makes for fewer cars among residents.
Dupont Circle is a hotspot for people of all ages and walks of life and one of the most popular places to live in Washington, DC. Near the fountain are ample people-watching opportunities, with people playing chess, skateboarding, reading, or just gazing upon the lush greenery around. Popular staples of Dupont Circle are Kramerbooks & Afterwords Cafe on Connecticut Avenue, where patrons can browse for books or sip on artisan cocktails and enjoy Sunday brunch. Pizzeria Paradiso on P Street is a fantastic place to grab a fresh slice of gourmet pizza. For those with a playful side, Board Room on Connecticut Avenue offers a place to play a wide variety of board games while sipping on a draft beer. For a taste of Germany in the city, visit Sauf Haus Bier Hall for an authentic beer garden experience on 18th Street.
Dupont Circle also is home to the Philips Collection, which is America's first museum of modern art featuring renowned artists like Rothko, Monet, and Renoir. Down Massachusetts Avenue you can see the historic Embassy Row in which old mansions have been converted to international embassies and diplomatic centers. Don't miss the ultra-popular Dupont Circle Farmers Market on 20th Street, which has been around since 1997. This farmers market features everything from French pastries to Greek desserts to local meats and cheeses, with seasonal produce and more every Sunday from 8:30-1pm, year-round.
With a mix of residential, commercial, culinary, and evening delights alike, Dupont Circle has something for everyone. This diverse and historic neighborhood in northwest Washington, DC is the perfect place to spend an afternoon idling away or going out to one of the numerous popular clubs or restaurants. It is served by the Dupont Circle Metro Station which takes passengers along the red line. Children of Dupont Circle attend Ross Elementary School, Shaw Middle School, and Cardozo Senior High School.