Impressive Focaccia Mosaics That Will Wow Any Crowd
Posted by Tamara Kucik on Friday, December 18, 2020 at 1:40 PM
By Tamara Kucik / December 18, 2020
Comment
The gray, slushy winter months in the northeast can be grueling, especially after nearly a year of being cooped up inside. With a steady supply of yeast and flour back on the shelves, experimenting with baked goods is a creative way to spend a little downtime. Using Bon Appetit's wildly popular Shockingly Easy No-Knead Focaccia recipe as the canvas for vibrant focaccia mosaics is a fun way to brighten up spirits and impress friends and family.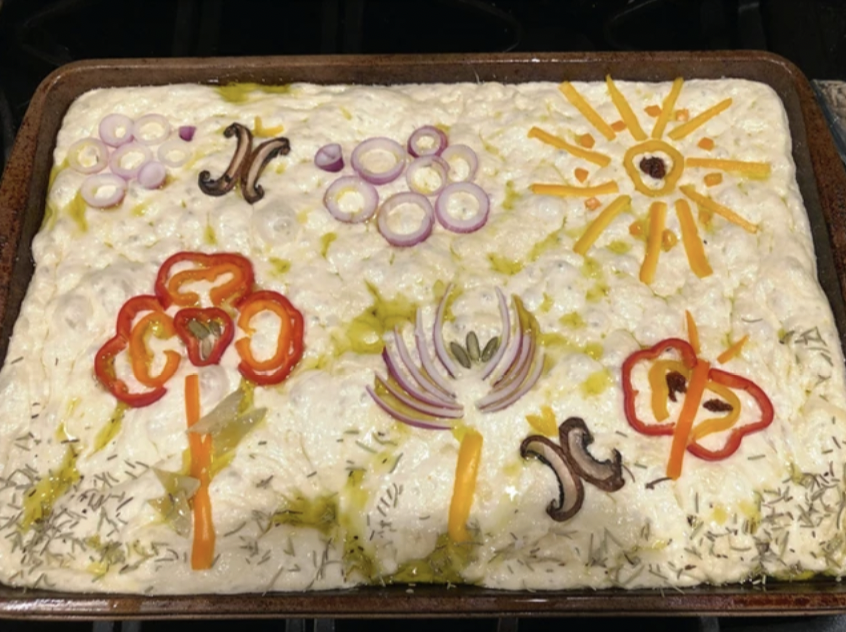 Peppers, onions, and capers dot this landscape
There are no hard-and-fast rules for creating these works of art, but rather general principles that might make the project more successful. But baking is frequently an experiment, the result of trial-and-error sometimes with serendipitous results. Whether for a sleepover, dinner, or just a diversion on a snowy afternoon, making focaccia mosaics is a gratifying, artistic activity.
After following your favorite focaccia recipe and the second rise in the baking sheet is complete, spread out the dough in the pan and carefully arrange your toppings on top. Follow baking times as normal but keep an eye on the focaccia as it is in the oven to ensure it is cooked evenly and does not burn.
Shapes like flowers, trees, clouds, and more can be made using herbs and vegetables you have on hand. Some ideas for toppings include:
Vegetables (red onions, green onions, shallots, sweet bell peppers, jalapeños, chilies, olives, capers, kale, asparagus, cherry tomatoes, sun-dried tomatoes)
Fresh herbs (parsley, rosemary, oregano, basil, thyme)
Meats (salami, pepperoni, sausage)
Shredded cheese (parmesan, asiago)
Great for snacking, sandwiches, or freezing for later use, these beautiful mosaics are a blast to make while also delicious to eat. Some tips and general guidelines to follow:
Avoid wet or tough vegetables like mushrooms, potatoes, and zucchini as they can make the dough soggy
Press delicate toppings like herbs into the dough to avoid burning in the oven
Keep some space between water-heavy vegetables to avoid steaming and a soggy crust
Areas without vegetables will get more browned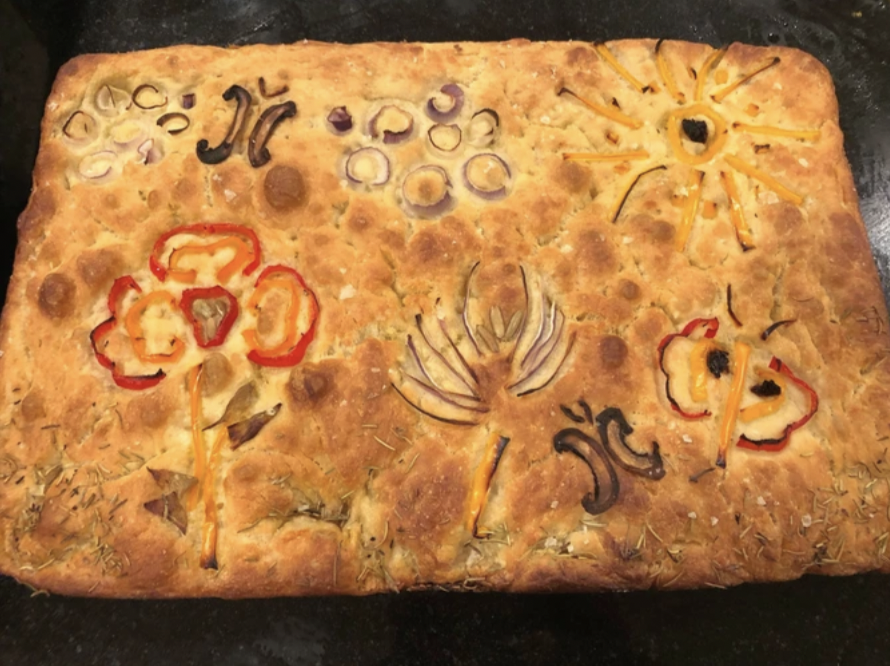 The crispy, delicious finished product