Sweet Treats On Your Street
Posted by Tamara Kucik on Thursday, October 29, 2020 at 6:37 PM
By Tamara Kucik / October 29, 2020
Comment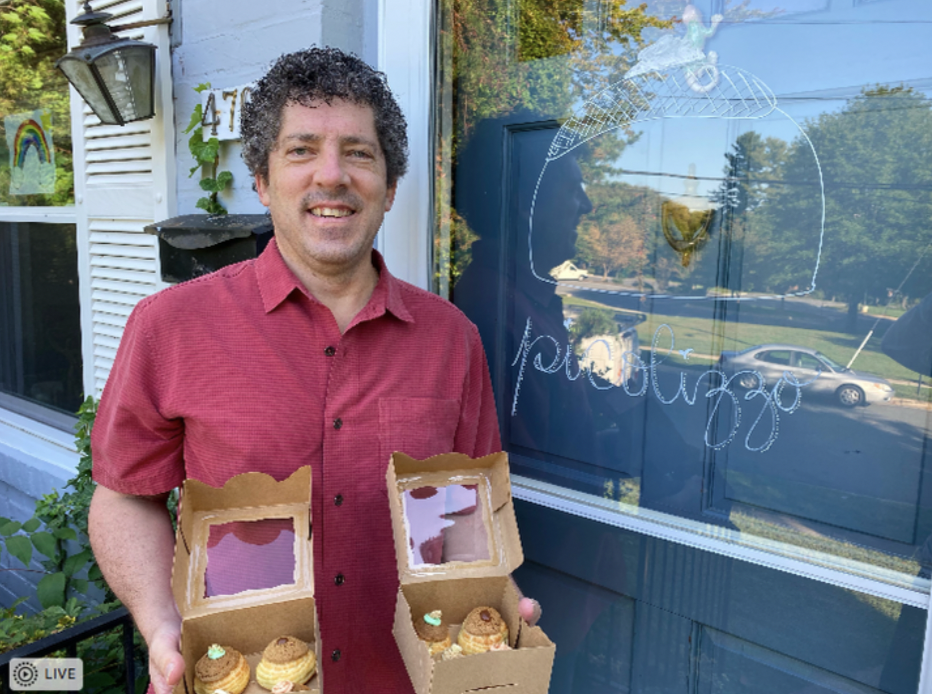 Steve Teitelbaum, "The Picolizzo Guy"
Since we have been cooped up for months, diversions like baking have taken the world by storm as evidenced by loosening belts and yeast flying off the shelves. For some, baking during the pandemic has been a new endeavor, but not for Steve Teitelbaum. A baking veteran, Steve is more than comfortable in the kitchen— he is the mastermind behind Picolizzo, an original pastry turned passion project of his that has made waves in the community.
Inspired by past trips to Europe, Picolizzo is a cream puff pastry filled with a proprietary custard recipe and ever-changing flavors, finished with a sweet topping. Though he has been making them for two years, Picolizzo serves as Steve's kitchen-based therapy that has soothed him since the start of the pandemic. What started as handing out extra baked goods to neighbors has evolved into a project that has united the community and raised funds for causes like Manna Food Bank and the Maryland ACLU.
With a background in digital marketing and operations, launching and running a website isn't Steve's first rodeo. What started as offering up extra pastries on the neighborhood Listserv has evolved into a way for Steve to relieve stress, interface with the community, and support causes he cares about. The idea is simple: peruse the seasonal flavors, place an order online, make a financial donation in any amount, and pick up the goodies. Flavors are always changing with the seasons, but summer featured blueberry, strawberry, and lemon, while fall ushered in pumpkin spice, salted caramel, and hot chocolate.
Though we are all adapting to celebrating holidays differently this year, Halloween can still be an opportunity for sweet treats and neighborly fun. This year Picolizzo is offering a Halloween-themed giveaway on Saturday, October 31 where boxes featuring pumpkin spice, lemon drop, peanut butter cup, and caramel flavors are on the menu for 25 lucky winners. To enter, sign up for a free box at www.picolizzo.com/request-free-box and look out for an email and/or text detailing the time for pickup. For the rest of the holidays, delectable flavors like pumpkin pie and Irish coffee will be offered.
While Picolizzo was born out of pandemic-induced uneasiness and a desire for connection, it has transformed into an endeavor that has connected the community while making a difference for local causes. Known colloquially as the "Picolizzo Guy," Steve Teitelbaum is an example of someone who has combined personal and professional strengths to make a difference while also having fun. To order your box, sign up at https://www.picolizzo.com/request-free-box.